Saskatoon Asphalt Paving Services
Precision Asphalt performs commercial and residential asphalt paving services in Saskatoon and the surrounding area. Most parking lot and driveway owners choose asphalt service more often because of its strong and durable material. While meeting the needs of our customers and providing a quality product, along with the correct service, asphalt can withhold heavy use to last several years. Contact us to get started on your asphalt paving project.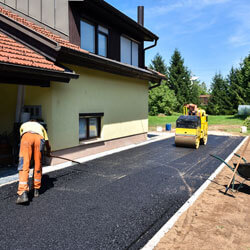 Commercial Paving
With a wide range of services in our commercial asphalt paving division, we can handle all sizes of project – large and small. Precision Asphalt combines our superior equipment, with outstanding customer service. We understand that keeping your project and jobsite clean, while your operations are accessible at all times, is very important. If you care about sending the right message to your customers, now is the time to contact the asphalt experts at Precision Asphalt.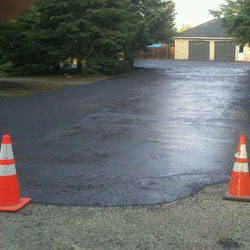 Slurry Sealing
A slurry seal is the application of a mixture consisting of water, sand, emulsion oil and other additives to an already existing pavement surface. Slurry seals improves the live of pre-existing pavements and improves skid resistance.
Concrete Curbs & Sidewalks
Finish your paving project with concrete curbs and sidewalks. Adding borders around trees and gardens with decorative concrete curbs adds an aesthetically appealing appearance to the outside of your home or business.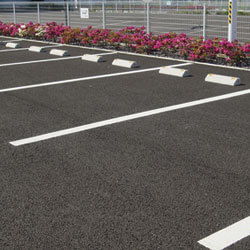 Line Marking (Parking Lots)
We offer parking lot striping and maintenance services. Whether your parking lot is new and needs to be designed and marked, or if your existing lot needs an updated look, we have the crew to get the job done. When your parking lot is marked well, it helps your customers to know exactly where to stop, walk and park. This promotes safety and convenience, so they can easily identify where to park.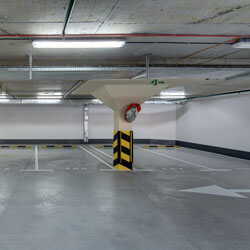 Lot Sweeping
Regular parking lot sweeping services play a vital role in general asphalt pavement maintenance. Precision Asphalt's lot sweeping vehicles use jets of water and specialized bristled brushes to remove dirt, debris and garbage from pavement surfaces, scrubbing pavement clean.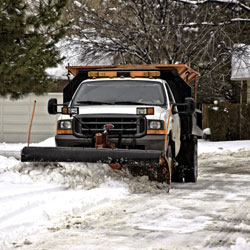 Snow Removal & Sanding
Precision Asphalt offers effective, efficient snow removal and sanding for all your commercial needs. Our experienced crews with our fleet of loaders and tandem dump trucks can clean, pile, haul and de-ice your lots day or night, ensuring your customers will be able to access your business safely.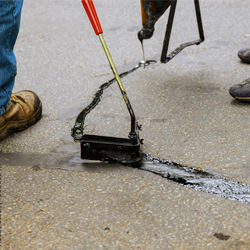 Crack Filling/Crack Sealing
Crack filling is a good preventative measure for extending the life of existing asphalt and concrete. We offer both hot & cold pour crack filling for asphalt and epoxy crack filling for concrete.
Chip Sealing
Chip sealing is often performed on rural roads that have lower traffic volumes. The process is a pavement surface treatment that combines layers of oil and fine aggregate- extending the life of the pavement by up to 5 years.
Dust Suppression
Dust suppression is an important aspect of all construction projects. Proper measures to ensure dust suppression helps reduce the amount of potential air and water contaminates.
Epoxy Coating
An epoxy coating consists of a resin-like mixture that, when applied correctly, creates a hard, chemical and solvent resistant finish. Epoxy coatings are perfect for garages, basements, and more.